Gearing the power of automation, big data, machine learning and IOT

Energy

Efficiency

Environment

Engage
About us
Protecting assets, improving

efficiency
At AEGEUS, we design and develop 100% Made in India Robotic technologies and solutions for Solar Panel Cleaning to avoid soiling losses, increase solar project efficiency and also avoid wastage of water.
We are engaged with our customers right from the design stage to understand their challenges, develop products and offer services to improve their efficiency. Our products and solutions help protect the
environment.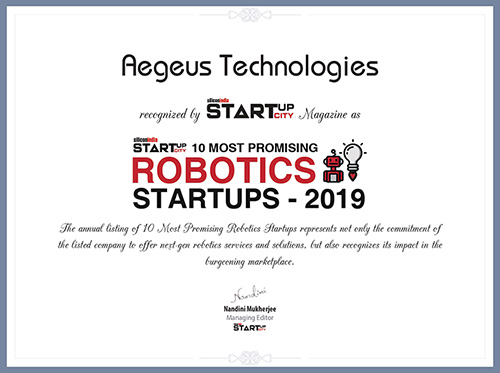 Aegeus Technologies

recognized by Startup City Magazine as 10 Most Promising

ROBOTICS

STARTUPS -2019
Identified among the Most Innovative Startups at

Elevate 100
Core features of Robotic Solar Panel Cleaning system
Unicorn is a revolution in water-free solar panel cleaning technology, which not only provided you the flexibility to choose the cleaning frequency based on your need, but also differentiates dust from bird droppings or panel breakage. It is self cleaning, self-powered providing high reliability of cleaning thereby ensuring improved efficiency. It is suited for both rooftop and ground mount farms

PERFORMANCE
Our Patented Robotic Cleaning system is suitable for PV plants ranging from a few hundred KW onward to MW scale. Our cleaners deliver assured improvement in power production from solar panels.

LOW POWER CONSUMPTION
Our robots are designed in such a way that it consumes minimal power thereby offering longer battery back up. The automated version comes with a docking station having its own solar powered charging unit
Water-less Solar Panel Cleaning Robot
Our Solar Cleaning Robot is a water-free cleaning system, meaning that your site not only avoids the cost of water, but also the infrastructure that supports it, be it tanker trucks, storage containers, hoses and piping. It removes 99% of soiling on a daily basis using a combination of three factors A special microfiber that gently wipes soiling away, controlled airflow over the panel surface, and gravity to ensure soiling is moved downwards and off panel rows

Testimonial
We are very happy to share client's review.
We installed your unit for waterless cleaning for solar panel in the month of Nov 2019. We are very much satisfied with your unit, its working fine. We appreciate your service/support during installation of the robot at our end and after installing also.

Revolutionizing solar ROI for leading energy conglomerates. Pleasure to associate with Aegeus. Thank you for support

Latest Blogs & News
We're ready to share our advice and experience.
Our

Presence

Proves a Point
Aegeus team brings broad and multidisciplinary experience with proven track records in revolutionary product development, engineering, operations and management.